The term "new retail" has become a hot topic of market discussion since its appearance in 2016. In the face of such an emerging vocabulary, its interpretation is endless and different.
  Some people define "box horse fresh" and "super species" as new retail; some say "social e-commerce" is new retail; others say that "small program" is new retail. To understand from another angle, these are actually a "phenomenon expression" of "new retail". The true connotation and essential drive of "new retail" is far from this.
  As we all know, China's per capita GDP has exceeded 8,000 US dollars, China's own brand is about to usher in a period of great explosion, and the four driving forces to promote the development of Chinese consumer brands focus on the core level of policy guidance, consumption upgrading, new retail, and cultural responsibility. Among them, "new retail" will play a central role in promoting the transformation of Chinese business from scale drive to efficiency drive.
  One of the voices we often hear is that "new retail" is to refactor "people, goods, and fields" to deliver "goods" to every consumer in the quickest way, and these can happen in any life. In the scene. Yes, this is a very good blueprint. It outlines a beautiful picture from the perspective of "consumer" experience; then, who is the promoter of this beautiful business blueprint? From the perspective of every commercial enterprise entity Looking at it, what will new retail bring to them?
  The OAO consulting team at Shanghai Insight (http://www.dongchali.net) believes that "commercial efficiency improvement" will be the core kinetic energy of the new retail market. This "efficiency" is not only about warehousing and logistics, but also in the efficiency of consumer contact platform, the efficiency of traffic operations, the efficiency of customer asset data and the efficiency of restructuring people and warehouses. The promotion of new retail is for commercial enterprises. It is a process of "energy".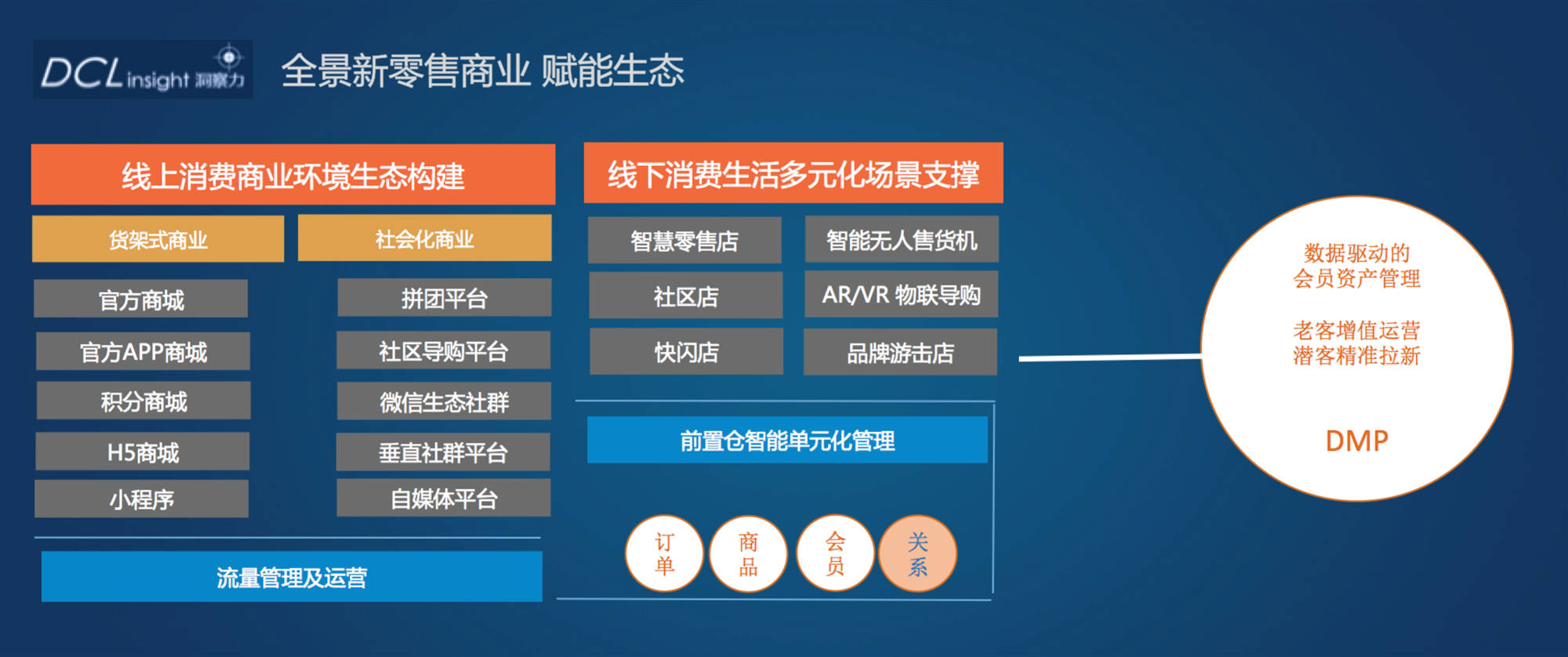 Panoramic business model refactoring
  With the upgrade of consumption and the redefinition of the relationship between new retail and business elements, the business architecture of the enterprise has evolved in a cross-cutting manner. Shanghai Insight OAO's new retail global solution has comprehensive technical capabilities and resource capabilities to provide enterprises with "centralized shelf retail" and "decentralized social retail" "dual-track digital business" solutions. That is, starting from the consumer's entire network contact platform, matching traffic operation capabilities and big data customer asset management capabilities, thus completing the overall empowerment of enterprise OAO.
  Consumers' overall network contact platform performance improvement
  Shanghai Insight OAO Total Solution's platform design and development technology can help companies build comprehensive online sales terminals from online third-party malls such as the official online independent mall, micro mall, H5 mall, small program, and Tmall Jingdong. Innovative innovations for offline "new retail species" include, but are not limited to, digital stores, smart flash stores, smart shopping guides, unmanned convenience stores, unmanned shelves, and intelligent interactive devices based on the Internet of Things; The layout of the offline stereoscopic consumer distributed contact center.
  Commercial traffic operation efficiency optimization
  Whether it's a centralized business or a decentralized business, Shanghai Insight OAO Total Solution can help companies complete the integration and superposition of online and offline traffic through effective big data technology and traffic operations capabilities, maximizing the value of the flow unit. Utilization. Whether it is from the browsing behavior analysis of online consumer audiences, or the offline wifi probe and action habit analysis, a structured business traffic database will be formed; at the same time, based on various marketing such as promotion, grouping, distribution, shopping guide, fission, etc. The way to direct effective traffic classification to centralized retail terminals or decentralized sinking channels (social retail systems), while covering the top market and the long tail market.
  Improve the efficiency of data management with customer assets as the core
  For enterprises, the new retail is actually the two-way empowerment of "artificial intelligence" and "data-driven", and its core is the control of enterprise customer asset data management capabilities. In addition to supporting the CRM refined management system of existing customers, Shanghai Insight OAO is supported by Shanghai Insight Business DMP data management capabilities. Before becoming a consumer with a company, the acquisition, tracking, analysis, refining and sorting of potential consumer groups, and ultimately achieving the accurate touch of corporate brand and product information, is in addition to the existing customer asset management capabilities. Another core competency of potential customer assets "pre-management".
  Intelligent technology reshapes the relationship between people and goods
  The core of the new retail is the reconstruction of the traditional commercial factor people's yard. In addition to the innovation of business ideas, the realization of the "reconstruction" of diversified business scenarios, the core of which comes from the "supply and support of smart technology." The core technical capabilities of Shanghai Insight OAO Total Solution cover multi-screen platform development technology, big data intelligent computing, traffic distribution, smart tags, IoT simulation, AR/VR, Wifi probe, distributed inventory management, smart shopping guide and intelligence Interactive technology, etc.; Diversified OAO technical capacity reserves can guarantee effective and personalized new retail business innovation practices.
  Shanghai Insight OAO empowers extension
  The development of smart cities is an advanced form of urbanization. New retail with online services as a link is a core component of building a smart city. In the future, in addition to the new retail business services, in the common service areas of urban government, medical care, transportation, etc., Shanghai Insight OAO will continue to play its core technological advantages and resource advantages, and carry out "higher ecology" in the construction of Internet smart cities. The comprehensive practice of "level" extends the artificial intelligence technology in OAO to a broader level of urban construction and exerts its greater value.